To visit Kenora and not dine at the Plaza Restaurant would be a Greek tragedy! What began as a simple diner back in 1969 has evolved into one of Kenora's iconic restaurants. While Thanasis (Tommy) & Maria Adamopoulos introduced Kenora and the Lake of the Woods Area to the Mediterranean diet and the "Greek" way of life, Konstantina has successfully carried on the family tradition using her parent's authentic recipes & lovingly makes everything from scratch. The Plaza also offers delicious pastas, full-flavoured steaks, succulent seafood, savoury ribs and of course mouth-watering Lake of the Woods walleye. From September to June we are open Tuesday to Saturday. In the busy months of July and August we are open Monday to Friday. Our doors open at 4:30pm for dine-in and take-out. We can't wait to show you why we are the "Greek Gods of Casual Fun Dining!" OPA!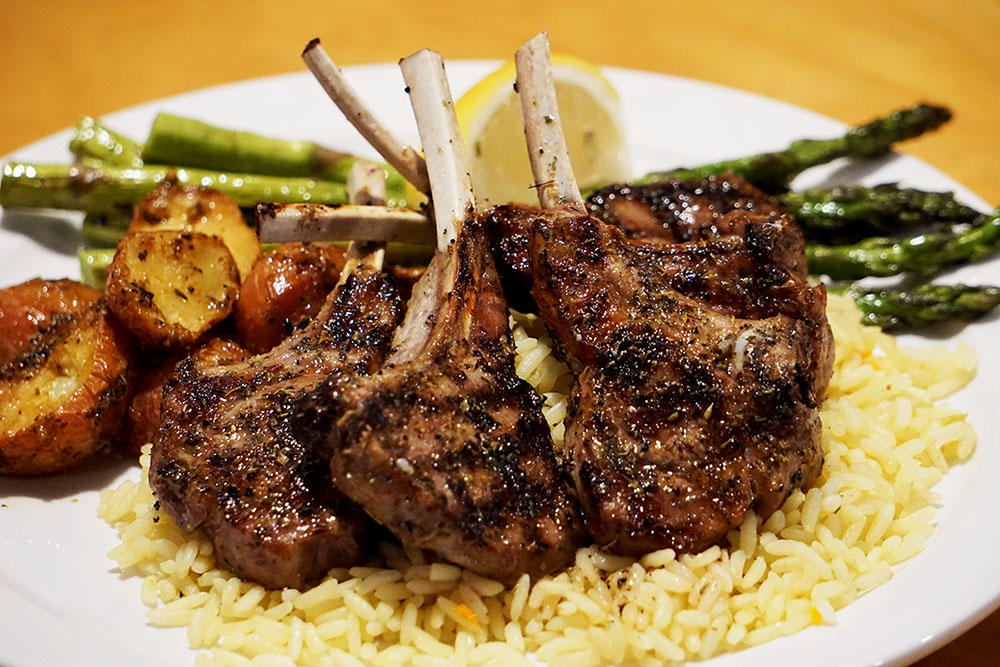 FULL SERVICE DINING
All of your favourite Mediterranean classics and more! Come join us for full meals with our signature flavours, or for just for appetizers and drinks. We offer full dining service for all your special occasions….or just treat yourself to a night out!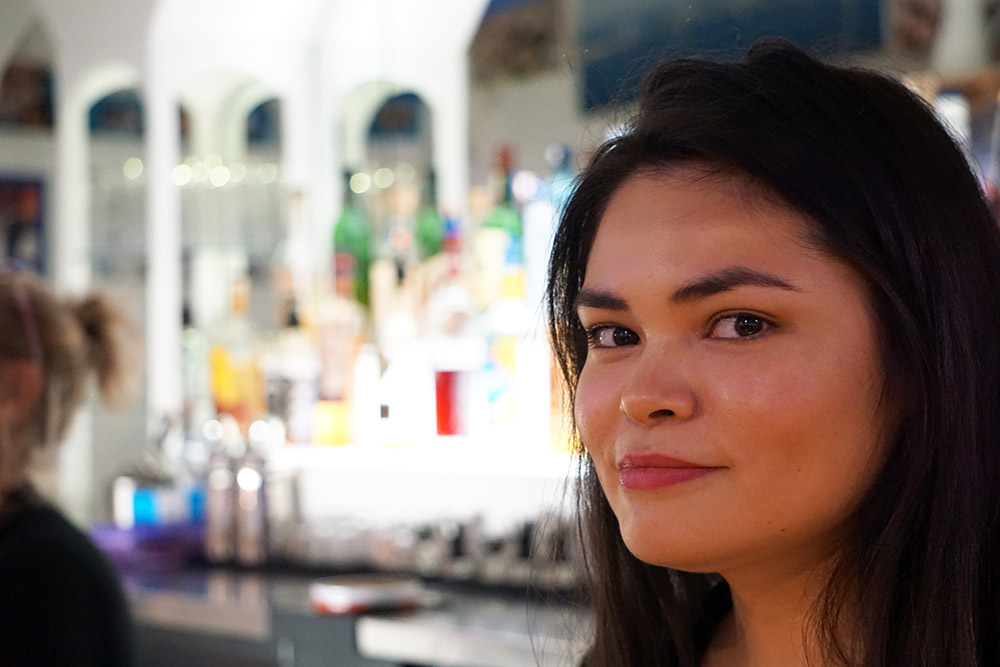 PROFESSIONAL STAFF
We believe you should be treated like the Greek Goddess/God that you are! Our professional and friendly staff are ready to make your dining experience here a comfortable and memorable night out any day of the week.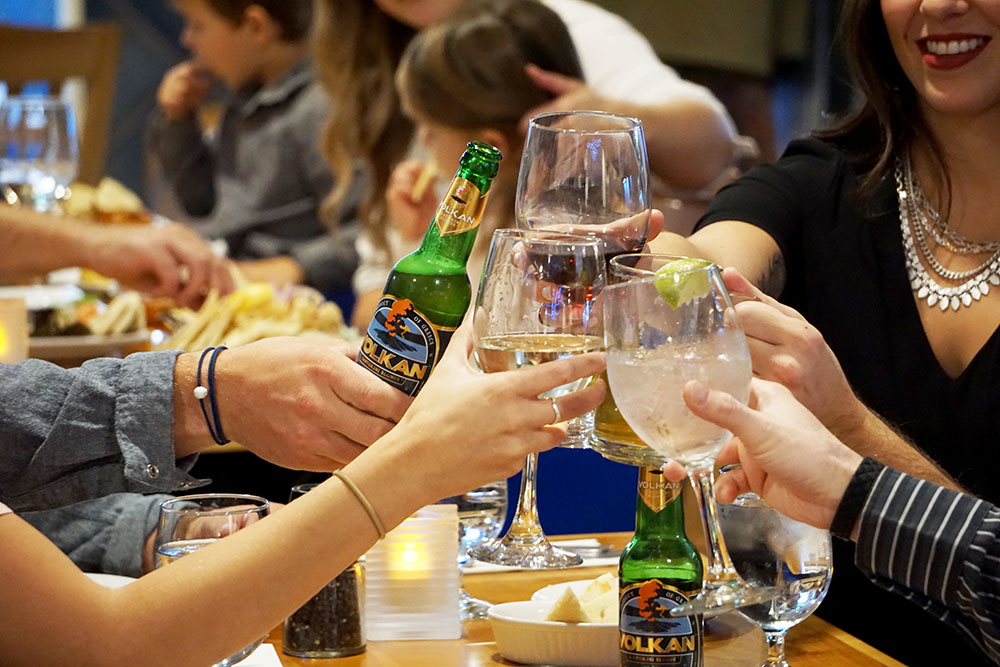 FULL BAR SERVICE
Whether you're looking for an ice cold Greek beer on a hot summer's day, or that perfect pairing or wine or a cocktail with your meal, we have it all. Don't forget to finish your meal with our perfect Ouzo service!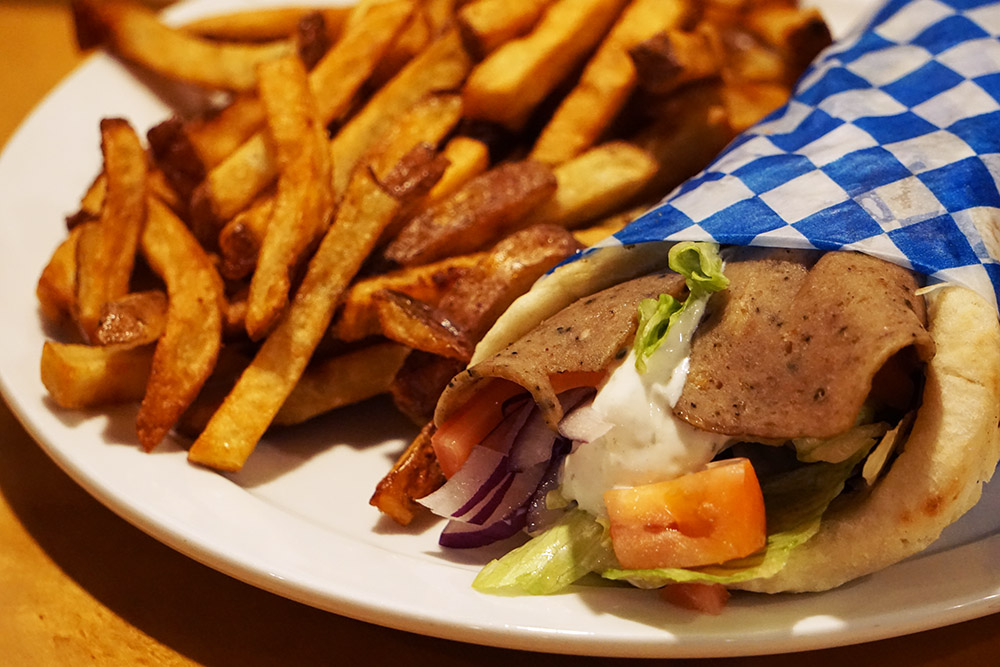 DAILY FEATURES
Check out our Instagram feed and like us on Facebook to see our daily dinner & drink Feature​. Every day we have a new feature…a chance for you to try something new, or a way to save on one of your favourite Plaza dishes!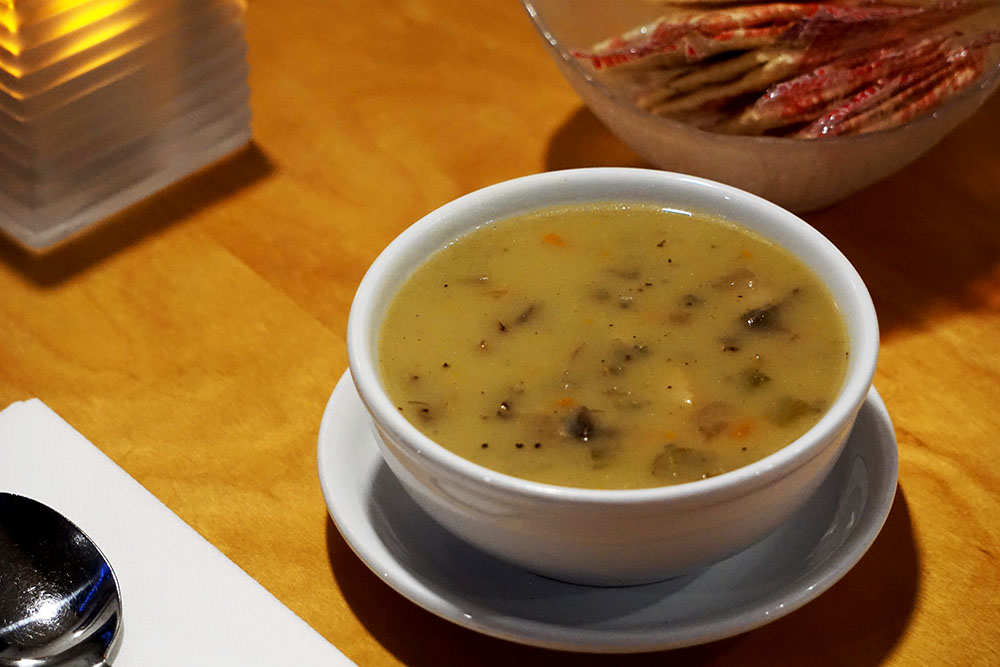 DAILY HOMEMADE SOUPS
Every day of the week we offer a different homemade vegetarian soup! Of course, don't forget our famous Avgolemono soup, served daily….a rich chicken egg lemon broth with orzo pasta.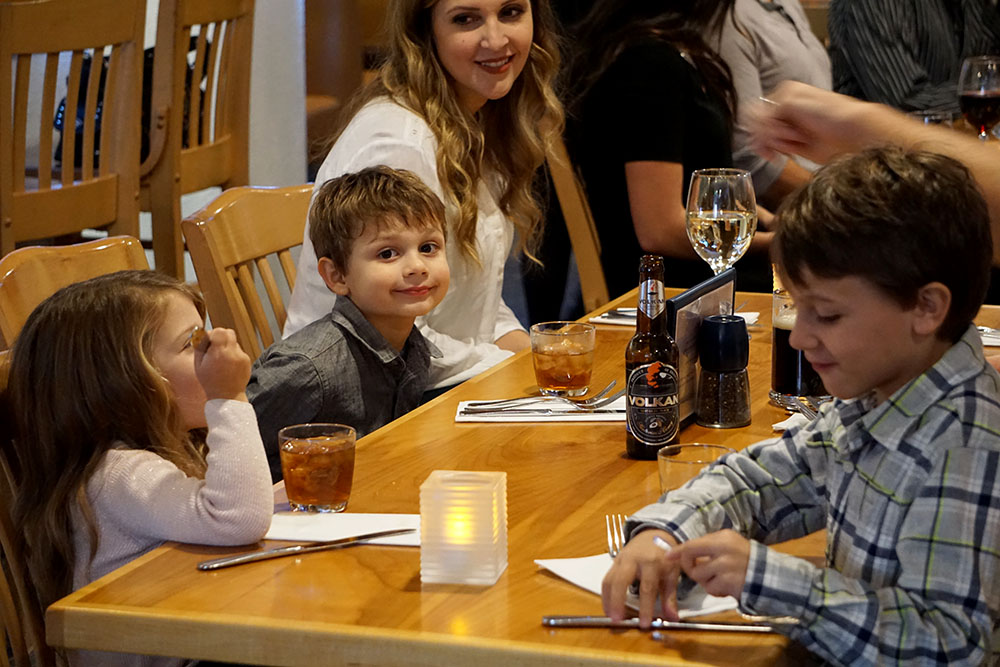 FAMILY DINING
Coming out with the children tonight? No worries! Plaza is family friendly, with a full range of delicious kid's meals and a worry free environment. We welcome families with our famous Greek Hospitality!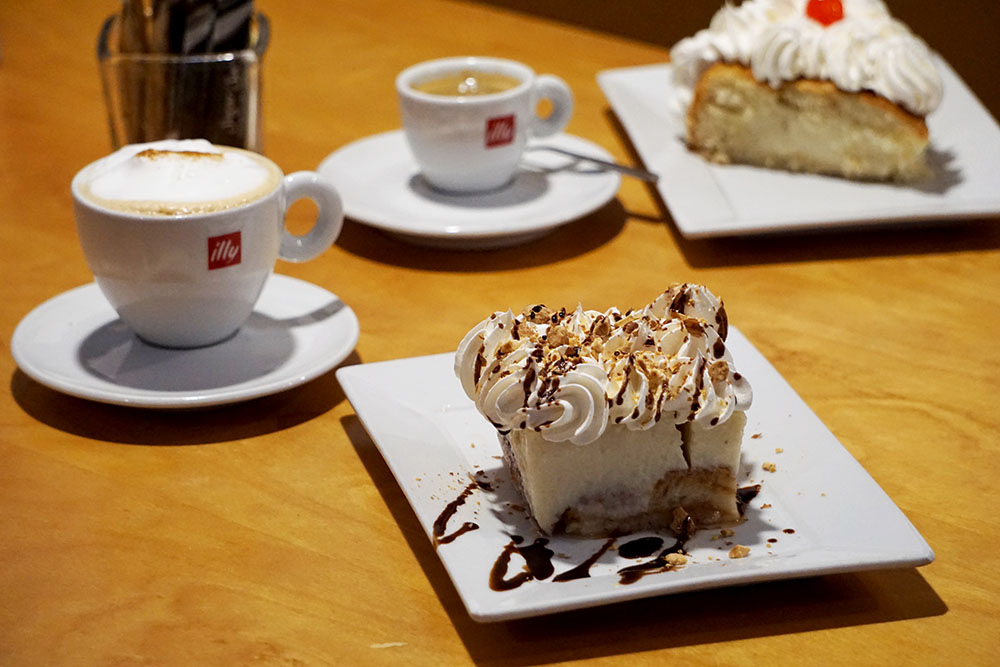 HOMEMADE DESSERTS
Did we mention our delightful homemade desserts? So good you might just want to come by just for dessert! Don't forget our expertly in-house crafted espresso beverages for that perfect pairing!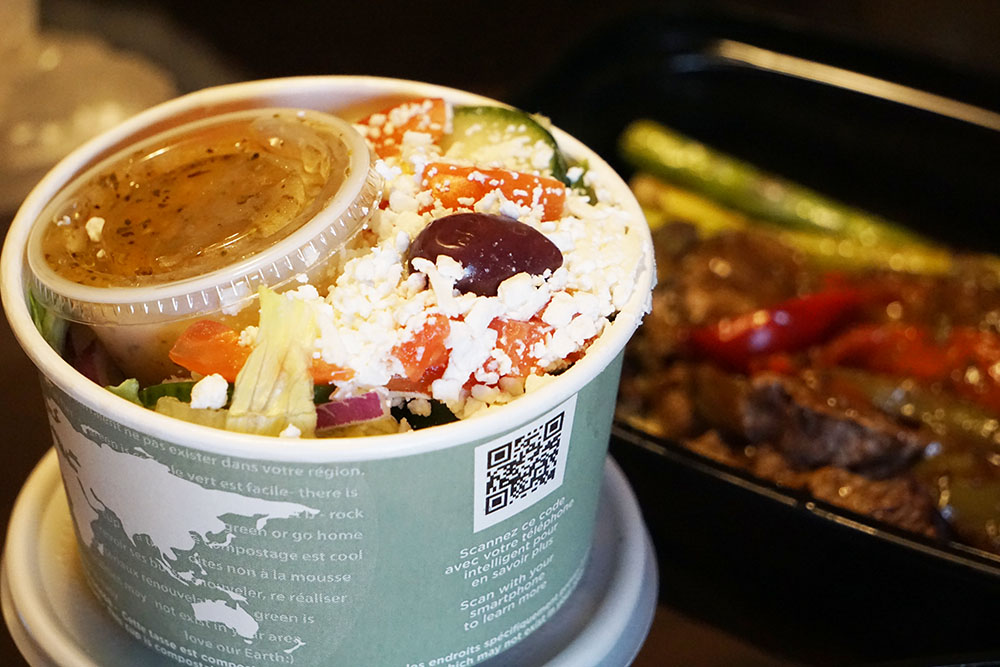 ENVIRO - FRIENDLY
At Plaza we strive to lessen our impact on the environment with friendlier packaging. We have been composting since 2004, and our straws are made of pasta. We will continue to work towards a less waste goal.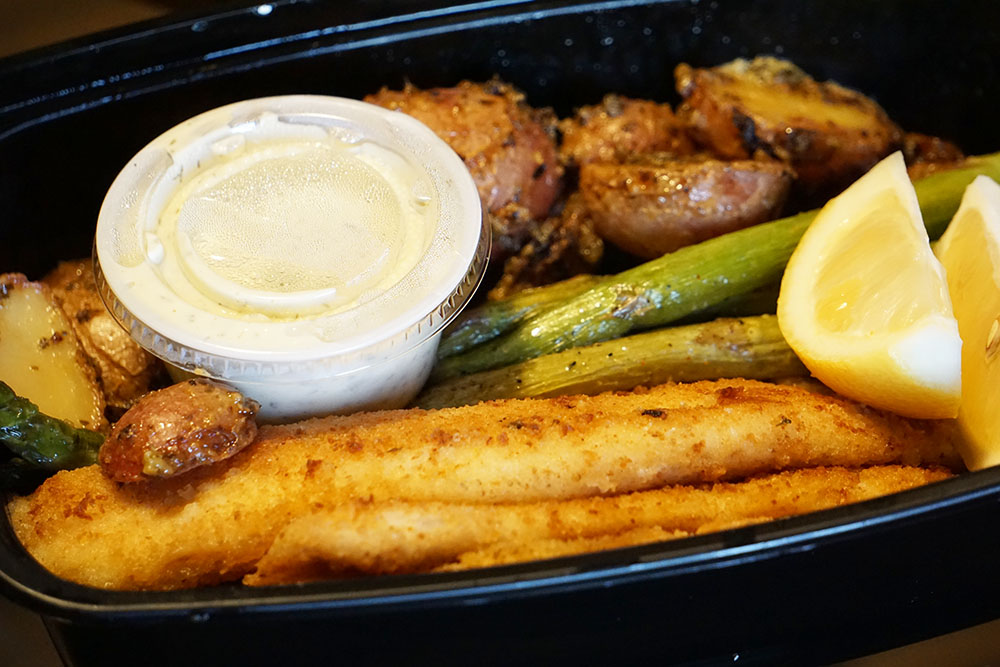 SENSATIONAL TAKE-OUT
Don't feel like leaving the dock tonight, or a snowstorm got you down? No worries, we have you covered with our perfectly packaged take-out. Ready for pick-up when you are!

My family and I have been going to The Plaza for years….
and will continue to do so. We are in town only for the summers and look forward to dinner here all year long. It is a great place for couples and families. My daughter says, "It's Awesome!"
This restaurant is so special due to the fantastic Owner, staff, food and ambiance. Tina the owner has always treated us like one of her own family, she's amazing.
Must tries on the menu are the Greek Lemon Soup, Saganaki, Jumbo Prawns, and the Rack of Lamb. Try this restaurant and you won't be disappointed.
Christian Charles Colantoni
Founder & Senior Managing Partner
Colantoni, Collins, Marren, Phillips & Tulk, LLP

The Plaza was the first place to really get me excited about food….
Growing up in Kenora, The Plaza was the first place to really get me excited about food. I don't know if it was the constant "Opas!" of flaming sagankis (still the best version I've ever had), or the fact that Tommy [Adamopoulos] showed me how to clean a whole squid when I was just a kid (again, their kalamari too is among the best you can get).
The Plaza continues to be my first stop when eating in Kenora. There's a reason this institution has been rocking since 1969."
Mike Green, MasterChef Canada Top 5
former CBC Radio nationally syndicated food columnist/culinary writer

for the wonderful dinner Mel and I had at the Plaza Saturday night. As usual you outdid yourself with the meal and the service. We tell everyone in Winnipeg we know that's going to Kenora to stop and have a meal at The Plaza.
See you soon.
Helen King

While enjoying Lake of the Woods….
you can also have a real Greek Island experience when visiting the Plaza Restaurant in Kenora. Tina and her team of superb staff will ensure that you are delighted by the ambience with wonderfully prepared Greek culinary treats reminiscent of visiting the Greek Isles. A sure bet for a romantic dinner for two or large group booking.
Ferg Devins – Toronto

I have dined at many Greek restaurants….
across Canada and without a doubt, The Plaza ranks among the top for food and for service. Always consistently amazing and delivered by the most courteous and attentive staff. This is our go-to place for special occasions, casual evenings out, catering events or for a quick take-out dinner.
Diane Findlay

My wife and I have been patronizing The Plaza Restaurant since 1979….
Each time we walk through the door, we are greeted with a small part of Greece. This restaurant has become our go to place for most of our family celebrations. We have brought many visitors to this establishment and have never been disappointed. The quality of the food, the service, and the ambiance has enticed us to return, time after time. Tina has continued the tradition started by her parents. I would recommend this amazing resturant to anyone who would like an exceptional food experience.
Harry & Jo Anne O'Hara

"Whenever we are looking to go someplace for dinner, I always ask to go to the Plaza. My favourite meal is the kids calamari and if you have good manners and eat all of your supper, Tina will give you gummy bears."
Tucker, age 8
"I like to eat the lemon soup, it is the best. Tina and all of the servers are really nice to kids."
Beckett, age 6
.
"We enjoy having family meals out at the Plaza. Being a busy family of four, we don't always have the opportunity to take our time to sit back and enjoy our meal. Tina and her staff are really great at making us feel welcome and feeding us delicious food in a timely manner before the kids lose interest. The Plaza restaurant has a fun and fancy vibe that can be enjoyed by many."
Parents of Tucker & Beckett
SEPTEMBER-JUNE
TUESDAY-SATURDAY 430-830PM
DINE IN, TAKE OUT & DELIVERY SERVICE
JULY & AUGUST
MONDAY-FRIDAY 430-830PM
DINE IN & TAKE OUT SERVICE
Regarding Take Out & Delivery Service
**PHONE LINES OPEN AT 4:00 PM & LAST CHANCE TO PLACE ORDER IS 7:30 PM**
CALL US AT: (807) 468-8173
Good To Know
The Plaza Works on a First Come, First serve seating policy. We do not accept reservations, except for New Year's Eve, Valentine's Day & the first three weeks in December for Staff Christmas Parties.

In the busy months of July & August Parties will be seated once all guests are present.

The Plaza is an air conditioned restaurant. And since we light a lot of things on fire, we need to keep a cool environment. If you are sensitive to this, you should consider bringing a sweater.
We know you love our food. But if you need anything else, give us a call!